Patrick Collison and Micheal Neilsen write:
It's surprisingly difficult to measure scientific progress in meaningful ways. Part of the trouble is that it's hard to accurately evaluate how important any given scientific discovery is.
A golden age of physics followed, from the 1910s through the 1930s. This was the time of the invention of quantum mechanics, one of the greatest scientific discoveries of all time, a discovery that radically changed our understanding of reality. It also saw several other revolutions: the invention of X-ray crystallography, which let us probe the atomic world; the discovery of the neutron and of antimatter; and the discovery of many fundamental facts about radioactivity and the nuclear forces. It was one of the great periods in the history of science.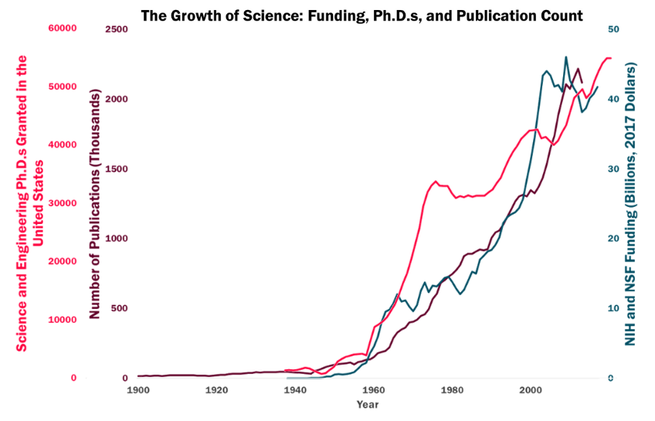 This is a troubling assertion. The authors have rightfully pointed out the growing "publications", but as I have covered here repeatedly – this growth has led to duplication of content.
Consider this:
I searched for "SBRT NSCLC" and narrowed down to results from the past 1 year. I haven't even applied filters to other aspects of search. The top five results vary only in the "headings" and I am sure there will be a significant overlap in the content. You can't invent and "re-invent" unless Twitter provides a medium to toot your "research". Do I see any mention of radiobiology? Dosages are empirical.
If you go back to the basic sciences, the only period of innovation happened during 1940-1960 with the "discovery" and establishment of institutions. While there is an increasing clamour to fund "curiosity" driven science, the benefit accrues to people through applications. Applied sciences requires scalable solutions. For example, CRISPR. It was invented in 2012, but almost a decade into it, it's still languishing somewhere. Likewise, the promise of "clinic-to-bedside" programs appeared to have been vaporware.
The pandemic has given us enough reasons to reflect on research priorities. Biomedical Research looks impressive but cheaper reagents, faster throughput and "lesser bets" on "moonshots" is required to benefit society (and "third world"). Open access (minus politics) and effective remediation by governments to remove gatekeepers will benefit more.
That's what happened in the past with public funding and accountability, and not corporatization and private research.