Can spaced repetition help retain knowledge? It looks as an interesting question, because "how we learn" and apply remains an intense course of research with no qualitative or quantitative end points.
This is in continuation of my quest for "personal knowedge interface (written about it earlier).
First the summary (I have included the PDF following the point summary:
Almost 40% of patients do not receive care in alignment with best available evidence,[1] which compromises care outcomes, service efficiency and wastes resources.[2]
There are many reasons why care is not provided in accordance with the evidence base, with clinicians' knowledge and attitudes being a key factor
Ensuring that clinical reasoning is underpinned by best available evidence is challenging given the rapid proliferation of new knowledge.[5]. This challenge is amplified by compelling evidence regarding the decline in clinicians' knowledge and their adherence to clinical guidelines and appropriate use of therapies with each year of clinical practice.[6]
In this systematic review, 'clinicians' were defined as practising health care professionals who had completed a recognised training programme leading to professional registration and were providing direct clinical care
Studies were eligible for inclusion if they were published in peerreviewed English-language journals between 1 January 2000 and 31 August 2018, and reported empirical data on a spaced education continuing professional development (CPD) intervention designed to (i) increase practising clinicians' professional knowledge, (ii) change their clinical behaviour or (iii) improve patientreported outcomes
The date range for this review was limited to studies commencing in 2000, as it was during this decade that evidence based practice gained considerable momentum and online spaced education platforms emerged as a methodology for delivering CPD
Level 1 – reaction: assessment of learner's views Research question: What are clinicians' experiences and/or perceptions of spaced education CPD programs? Level 2a – learning: change in learner's views or attitudes Research question: What is the impact of spaced education CPD programs on clinicians' attitudes? Level 2b – learning: change in learner's knowledge and skills Research question: What is the impact of spaced education CPD programs on clinicians' knowledge and/or skills? Level 3 – behaviour: change in learner's behaviours Research question: What is the impact of spaced education CPD programs on clinicians' behaviours? Level 4 – impact: changes in patient outcomes attributed to the learning interventiona Research question: What is the impact of spaced education CPD programs on patient outcomes?
Spaced education may work best when the CPD learning content is promoting the highest level of evidence, as opposed to lower-level expert opinion
The observed changes noted in these two multicomponent interventions are not directly attributed to spaced education, the evidence emerging from our systematic review suggests that spaced learning pedagogy is likely to be a valuable addition to CPD interventions designed to promote the adoption of new evidence and drive practice change, but this needs to be confirmed in adequately powered randomised controlled trials (RCTs)
Another study reported a 1.5-unit reduction (95% confidence interval, 0.7– 2.3) in palliative care inpatients' (n = 120) mean self-reported numerical pain rating scores (0–10), 6 weeks after a spaced education pilot study intervention was implemented to build nurses' pain assessment practices.[67]
Further research underpinned by theoretical behavioural change frameworks and using robust trial designs is required to confirm spaced education's capacity to positively change clinicians' behaviour and improve patients' clinical outcomes
[embeddoc url="
https://radoncnotescom.files.wordpress.com/2022/01/b02d9-phillips-jane-l-effectiveness-of-the-spaced-education-2019.pdf&#8221
; download="none" viewer="google"]
The next question is- how do we get the spaced repetition?
Here's another interesting paper:
Memory can be trained to seemingly impossible levels [1], indicating that there may be potential for improvement of how knowledge is acquired in medical school
There have been recommendations for improving medical education based on the available evidence in cognitive science regarding learning [2, 3]
As technology continues to expand, more web-based materials are being used by medical students, many of which being expanded-retrieval platforms
Expanded-retrieval platforms are platforms commonly used for content review where the interval between testing of subject matter is gradually increased
The papers were included if they met the inclusion criteria above and fell under one of the themes of expanded-retrieval platforms (Figure ​(Figure1).1). This narrative review was not designed to be a systematic analysis of the use of expanded-retrieval platforms within medical education
An experiment performed in residents showed that implementation of a tutorial on clinical guidelines improved mean knowledge scores from 50% pre-test to immediate post-test scores of 76%
The integration of peer-reviewed research into expanded-retrieval platform algorithm optimization may be a direction for future research
Therefore, I was curious to follow the idea of spaced repetition and active recall using Readwise. Here's something from their blog:
Cloze deletion is, of course, just a fancy way of saying fill-in-the-blank. This might seem a trivial tweak, but the simple act of hiding a word forces you to consider the surrounding context and search your mind for an answer. The hidden word itself isn't that important; it's the modest effort of being forced to think about what you'd otherwise passively read.

Spaced repetition is a technique for spacing out of reviews of previously learned material according to an algorithm designed to optimize your limited time for review. Each time you review a piece of information, you supply feedback to that algorithm which estimates the optimal time to show you that information again.
While the concept appears trivial. I realised that I could actually expand the ideas better by being able to summarise and recall everything. My initial experience with Readwise was less than stellar.
I suppose it was related to the quality of the imports – they did not have a decent API, app and it was a pain to make things work from my reading resources. However, I stumbled on it again after I realised Inoreader had announced a partnership to sync annotations in real time. Further exploration led to the discovery of an intriguing browser on iOS that would sync the highlights bang into the service without the need for any intermediary (Command). Readwise had improved their API offering and it would now be possible to clip the podcasts as well. Although it is available only on iOS platform through Airr.
I think readwise deserves a specific mention as the final repository of aggregated interaction online. The simple workflow would be to highlight the requisite papers/news/stimulating blurbs and keep the important ones for "cloze deletion" – to quiz myself on complex information; especially related to critical updates or papers, or for the upcoming JC meets.
Readwise allows summarising of information from Hypothes.is so it would represent an easy way to export out the highlights. I am not too happy with them- despite the promise of "open source", there is no easy way to export out the highlights- unless the Twitter support carefully links to a clunky tool which requires developer skill set to understand it's utility.
They have been for a long time and are pushing the idea of "social annotation", but the tools are worthless if you are not using a Chrome browser. Command browser solves the biggest pain point of having annotation straight in the browser on Apple devices, which previously required the "bookmarklet" from Hypothes.is They had the market to themselves for all these years. I am glad a more elegant solution has come through. Firefox users have "unofficial" app and I don't trust the extensions if they don't have valid store certificate. Besides, you can only get RSS feeds for annotations; which is highlights on the webpage and note. There is no dark mode support for the service, and good luck if you work on universal dark mode, like me.
PowerNotes is another interesting project, and I have written about them before. They do a decent job, like Hypothes.is – have permanent annotations on the webpage and capture the URL and the bookmarks. The bookmarks (aka references) can be exported out as a RIS file (which you can import in your citation manager). Highlighted notes can be used for word document. Since I last wrote about them and to date- they have added the ability for an external review for a collaborator.
Is this enough? No. It represents a glacial pace of updates and as an individual user, if I have to pay $50 per year to have "unlimited notes", it needs to expand to platforms other than desktop. Customer support is decent.
There is immense potential in annotation+ spaced repetition niche. Developers are not clear about roadmaps; workarounds don't always work and it would also require considerable expense to educate end users. Learning goals are lifelong and continued medical education has remained in a rut.
A simple way is to gamify the experience of spaced repetitions – through a collaborative platform using Telegram, for example. The highlights can be delivered via bot for the specific group with a poll. Trust me, it will have enough users tuned in to discuss something specific. It will help all users immensely!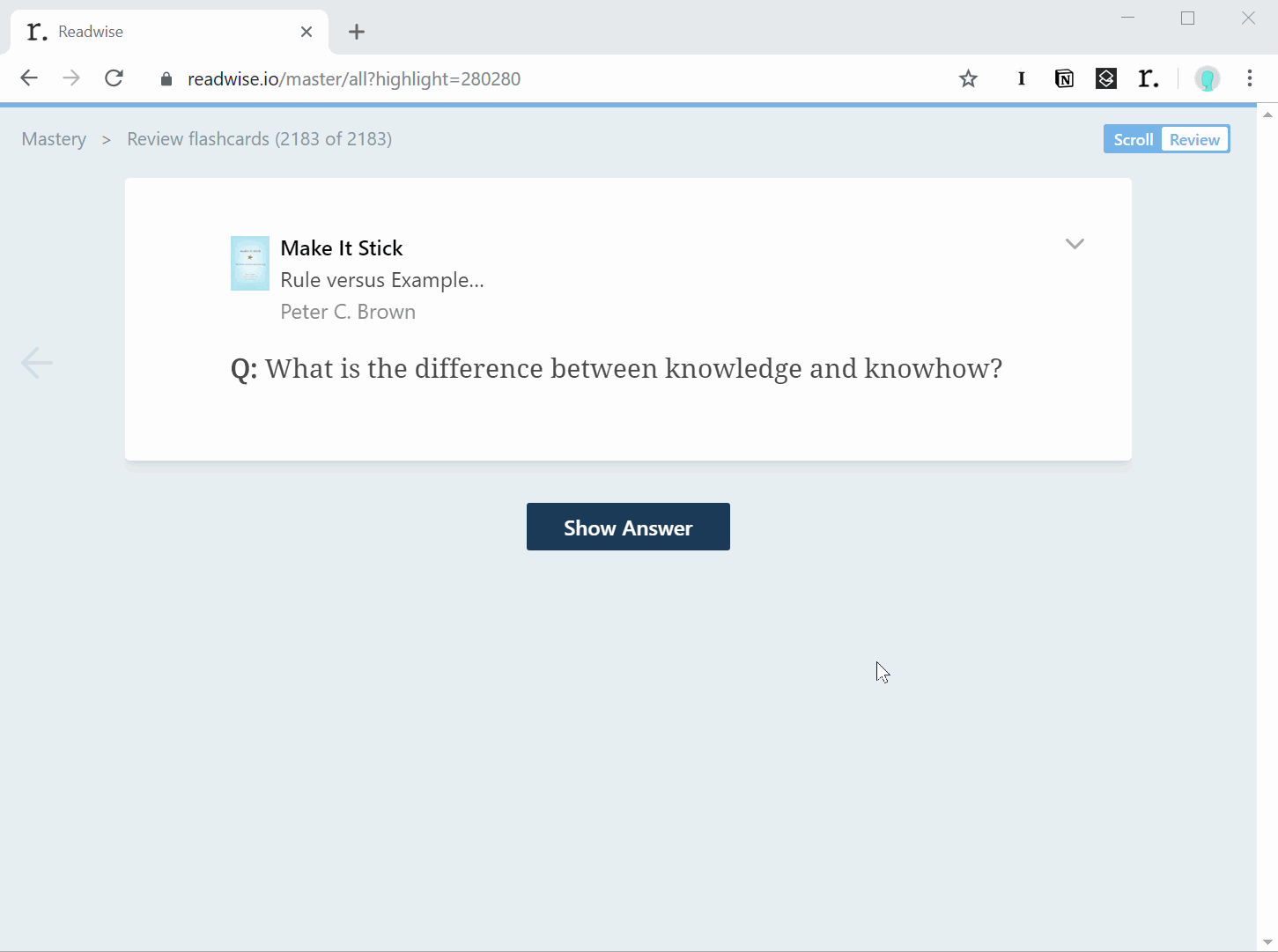 Readwise can partner with ReadCube (developers for bibliographic manager) – highlighted PDFs can be used to import notes. ReadCube does that through its application. It would perfectly complement with the learning workflows too.
The same tool can be used by anyone in the reading and learning space.
PDF requires a continuous sync, and there is no reliable way to have the epub synced out. After extensive iteration – I figured out that Marvin on iOS offers a decent export, and this is something Readwise could explore. However, Marvin is practically dead with no active development for a long time. Kindle highlights work ONLY on the books purchased through their service. If you send files to Kindle, those highlights are not synced. Further, there is no way to export highlighted books. I refuse to deal with the DRM.
My quest continues.