I got motivated to write this blog post to encourage my sister's group mates to shift towards privacy embracing chat application- Telegram. I have been advocating it for a long time in healthcare space, and I'll make out a case for it.
A background first. I was working with the lead developers (in advisory capacity) of BlackBerry Messenger to define its use case for a HIPPA compliant messenger. They then debuted BBM Enterprise, which generated encryption keys via special process on the device itself. It has faded into irrelevance, though.
After my argument about WhatsApp peering in the private conversations, I think it is essential to address the hard question about the choice between Signal and Telegram.
Telegram offers a cloud based messenger. It offers a seamless sync between your devices. As an oncologist, I use it as my daily driver- from my desktop, my chats are in perfect sync on my mobile. I go through my day without being tethered. The beauty is the exact state of chats on mobile or desktop. There are many features for Telegram that would make this blog post bloated; I'll focus on the efficiency gains instead.
You need to have a phone number to register, but then thereafter you create a username (like as in Twitter). You only need to give out your username to other users.
Q. What are secret chats (which Signal app just copied)?
Telegram pioneered secret chats- self destructing messages/videos/images sent for one to one conversations but they don't sync back to the cloud and remain on the device itself. (Here's another primer on secret chats)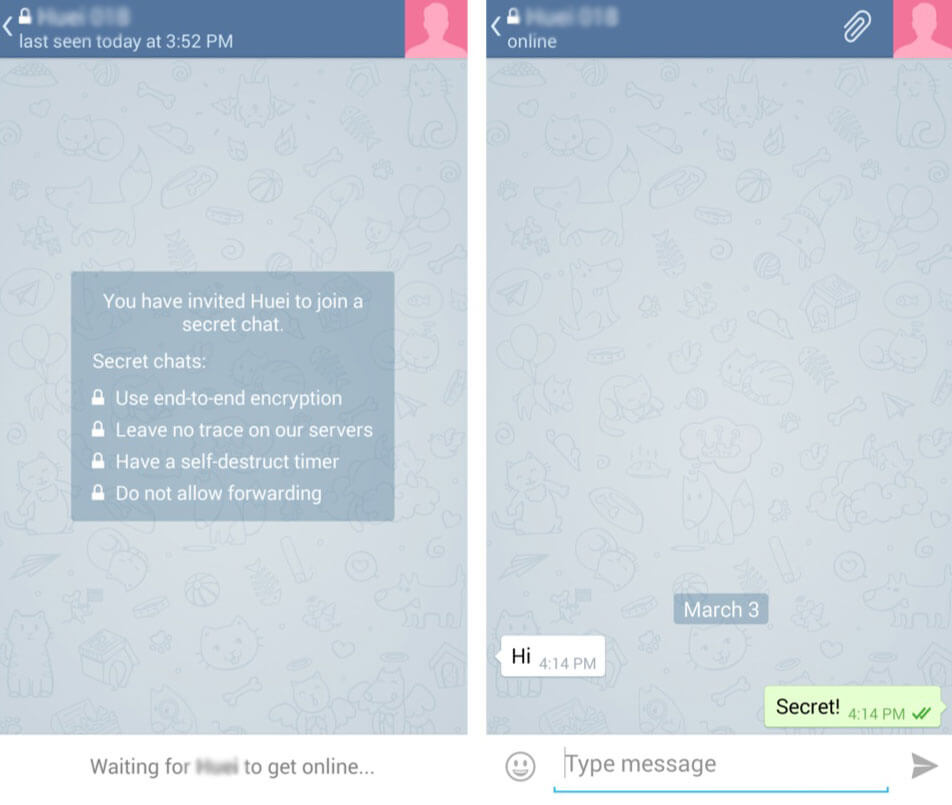 Telegram shines in how you can control the user access (for calling) or the ones adding you in groups.
These are Telegram settings for Android. They are almost similar for iOS. Therefore, Telegram offers enhanced "privacy restrictions" so it does not affect an individual. They introduced individual video calling last year. Group video calls will likely debut this year.
Besides:
I turn off notifications for individual chats which allows me to focus on patient care.
Channels offer a broadcast medium to share content. They can have unlimited subscribers.
You can create groups with 200,000 users. Group administrators can easily manage conversations according to rules. Telegram bots can help to automate the process. I run several communities as an administrator without affecting my schedule. Your phone number is NOT VISIBLE on public groups (unless you are mutual contacts, i.e. you have shared your contact details, before).
You can keep your group public or private- get a specific link. Here's the explainer. (link opens up externally). (The complete FAQ opens here)
Q. Why should you trust Telegram?
This is an interesting question and gets lobbed around in the mainstream media by calling Telegram as a "Russian app". That the owner has a Russian nationality but has no server placement in Russia. I don't think that this argument has any credence. Signal app has its origins in the US, which is part of the alliance that shares intelligence information on their citizens.
Here's what is important to remember:
Telegram is open, anyone can check our source code, protocol and API, see how everything works and make an informed decision. Telegram supports verifiable builds, which allow experts to independently verify that our code published on GitHub is the exact same code that is used to build the apps you download from App Store or Google Play.
If you are interested in further technical details on the server side code, this is instructive:
So why not publish the server code anyway, even if it is only a publicity stunt? 3 years ago I learnt that an authoritarian regime (you may guess which) was looking for a way to obtain Telegram's server code. Their plan was to launch their own equally convenient local app and then to shut down all other social media in the country.


After having heard that I put our plans to publish the server code on hold. I didn't want to provide dictators with tools to enslave their population – that shouldn't be the legacy of Telegram. We are not ready to betray our values because a few confused users seem to think publishing server-side code will somehow improve verifiability.
There are other interesting links on ideas from Pavel Durov:
On encryption vs. usability when using Secret Chats vs Cloud Chats
On maximising security of communication
Q.How can groups make your interaction easy?
I help to manage one of the largest neurosciences group on Telegram.
The flow of information in groups is seamless. Users have submitted massive case videos and conference chats to make it easy for others to follow. You can use hash tags to locate information or built in search that has improved considerably. We protect the groups through anti-spam bots that ensure only legitimate users can join.
Voice chats are an exciting feature to discuss the topical issues without resorting to Zoom calls. The link here explains it in much more detail.
I was also privy to inner working of a massive group (10,000 users) for a university in South Africa. They used specific private channels to disseminate information for course materials. They also used a custom bot to ensure that only legitimate users with their university credentials joined it. It was a fantastic experience to witness this on scale.
In closing, I prefer to use Telegram for a scalable, efficient solution that makes conversations rich and effective. The choice is clear for Telegram.